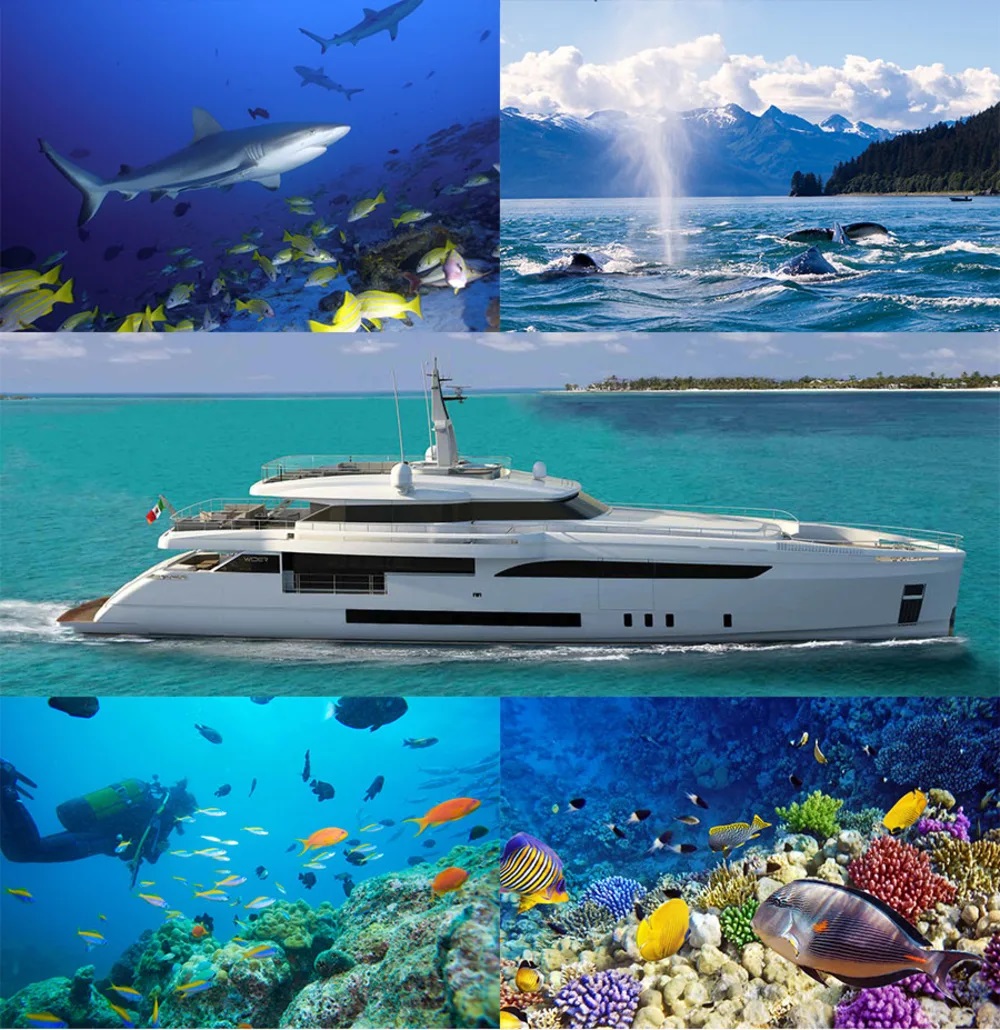 ​Eco-friendly yacht charters are on the rise. Today's charter guests are not only looking for impeccable service and luxurious on-board surroundings, they also want to reduce their carbon footprint at sea and ensure their charter is green in order to preserve the natural beauty of the ocean for the next generation
Yacht designers are also embracing this new trend for sustainability and are producing innovative solutions with the latest technology to ensure that their superyachts are as eco-friendly as possible.
If you and your guests are looking for a green charter, there are now many different options available. Hybrid-power superyachts such as the Vitruvius Acquaintance and the Wider 150, use diesel-electric propulsion to be around 20% more fuel efficient than a classic superyacht with significantly less emissions. The Wider 150 can also run on battery power alone whilst you and your guests use the on-board Beach Club, which means no noise or vibrations to disturb your party and lower fuel consumption during your tender.
Renewable energy is a growing trend for new builds and concept yachts .The Italian designer Arcadia has created an eco-friendly fleet of yachts which are all equipped with specially designed hi-tech solar panels to power the air conditioning, pumping, refrigeration and lighting systems on-board whilst simultaneously flooding the guest spaces with natural light and panoramic views of the ocean.
In keeping with a desire for sustainability, many owners are turning to a carbon offsetting concept to match the greenhouse gas emissions from their yacht's engines with equivalent emission reductions from on-shore green energy projects. By engaging a carbon offsetting company your yacht will receive a certificate outlining the offsetting carried out for either the charter period or the entire season.
And of course it's not just technology which is becoming eco-friendly, more and more yacht owners are also living a green lifestyle whilst on-board. Farm to table has long been seen as the healthiest way to dine and now this can also apply to your dining experience at sea with several yachts growing fresh, organic produce in special greenhouses on deck which are irrigated by distilled sea water.
Even the on-board toy box is going green with the launch of gadgets like the Eco Boomer zero-emission electric personal transporter and the Jetpad, a 100% emission-free and low-noise electric water go-kart which promise eco-friendly fun for all the family. And this season's must-have is a range of biodegradable golf balls filled with fish food created by ex-professional golfer, Francis Jacquemin. Turn the aft deck into your very own private golf course and practice your swing whilst feeding the marine life in the ocean below, it really doesn't get much greener than that!