Bahamas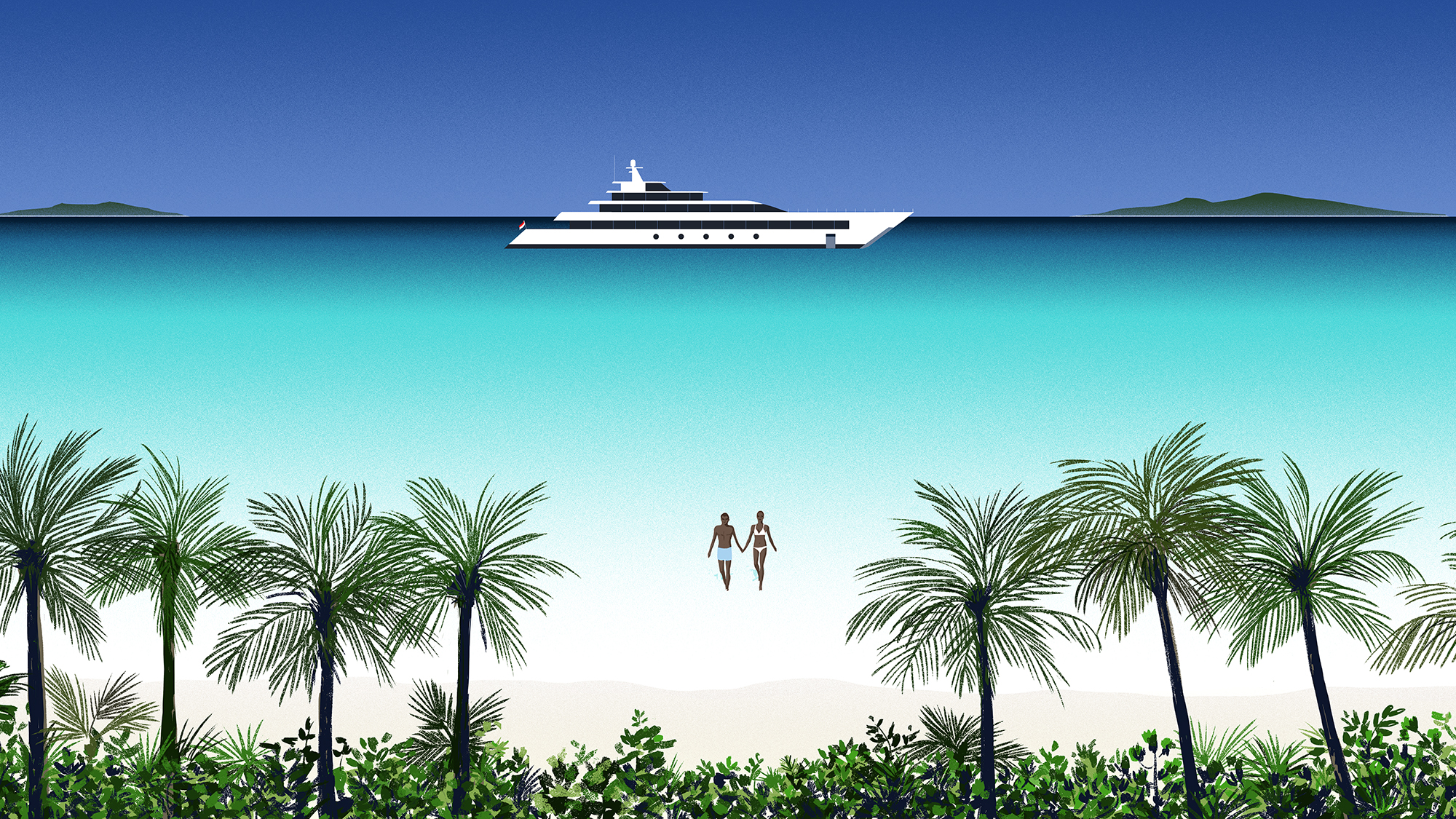 Luxury yacht charter in the Bahamas
Experience the true beauty of the Caribbean with a luxury yacht charter in the Bahamas. An archipelago of over 700 islands, it's one of the most breath-taking charter destinations. Explore the coral reefs, deep blue holes and incredible sea life of this natural paradise.
In modern times, curious sailors from around the world have been lured to these sandy shores, eager to explore the Bahamas' coral reefs, deep blue holes and powder-white beaches. A Bahamas yacht charter means you can explore where you want, when you want, in style.
Whether you are lured by the pink sand beaches of Eleuthera, the anglers paradise that is Cat Island, or to get up close and personal with turtles at Conception Cay, The Bahamas has it all.
Quench your thirst for adventure by exploring the reefs and lagoons by kayak or take to the depths of Dean's Blue Hole on Long Island. Rum Cay offers surf spots and under the surface, the wreck of HMS Conqueror is explorable to divers.
Relax, unwind and swoon over pink-tinged sunsets whilst sipping rum cocktails on your very own private yacht charter in The Bahamas.
Highlights
One of the most breath-taking charter destinations
Eleuthera has pink-sanded beaches
Beautiful coral reefs and deep blue waters
Key facts
Dean's Blue Hole plunges 202 metres into the sea, it is the deepest blue hole in the world
The word Bahamas is taken from the Spanish word of baja mar, meaning shallow water
The longest underwater cave system in the world can be found in Lucayan National Park
Bahamas itinerary
Nassau
Nassau
Start your Bahamas superyacht charter yacht in the capital of Nassau. A vibrant year-round getaway, be sure to explore the timeless pastel-hued Old Town and enjoy the many bars and restaurants on offer. Or, head over to Paradise Island, home to luxury hotel Atlantis, which boasts a sprawling casino if you are partial to a flutter, and for marine buffs, it has the world's largest open-air marine habitat.
Eleuthera
Eleuthera
Venture eastwards to Eleuthera, famous for its miles of perfect pink sands. A completely natural phenomenon created from finely ground seashells, the unique beach offers the chance to relax and marvel at the almost unreal shoreline. At lunch, be sure to head for Queen Conch for a taste of their legendary 'dolphin' (smoked mahi-mahi) dip. Then head southwards for live Bahamian beats at Eleuthera favourite, Tippy's Bar.
Cat Island
Cat Island
Chart a course southeast for Cat Island, heaven for anglers. The waters that lap these shores are famous for the abundant marine life in particular tuna, snapper, mahi-mahi and wahoo. Budding treasure seekers may scour Cat Island's sand dunes and covers for the legendary booty buried here by 18th-century British pirate Arthur Catt.
Conception Cay
Conception Cay
Conception Cay is a National Park trimmed by mangrove forests. Whilst the island may be uninhabited, it is a wonderland for wildlife lovers. Endangered green turtles scurry ashore to lay their eggs and there is an abundance of seabirds who call the island home. Explore the surrounding coral reef gardens snorkelling under the surface or take a kayak and explore the island's interior lagoon.
Rum Cay
Rum Cay
Step ashore at dawn and you may find your footsteps are the first of the day on this stunning shoreline. Isolated beaches and steady winds make these waters a surf-friendly destination. These waters are famed as Columbus navigated the surrounding emerald seas of Rum Cay to reach America in 1492. History buffs further get a fix by dipping beneath the waves and explore the remains of HMS Conqueror which sank in 1861 off the shore.
Long Island
Long Island
Cruise west to Long Island where daredevil, experienced divers can plunge to the depths of Dean's Blue Hole, the deepest underwater sinkhole in the world. On land, the islands offer something for everyone. Sip a Kalik Beer - the Bahama's own brew - sit back, and relax watching the sunset from the silky white sands at Cape Santa Maria.
The Exumas
The Exumas
Finish your Bahamas superyacht charter with a day at Exuma Cays Land and Sea Park. It's home to an abundance of sea life including barracudas, sea turtles and sharks. Then head over to Staniel Cay, surrounded by private islands and a superyacht favourite. Drop anchor in this private paradise and snorkel in the magic that is Thunderball Grotto which starred in the Bond movie, Thunderball. Just north, are the world-famous swimming pigs at Big Major's Spot.
Contact
Christopher Craven
Charter Broker
Speaks :