Virgin Islands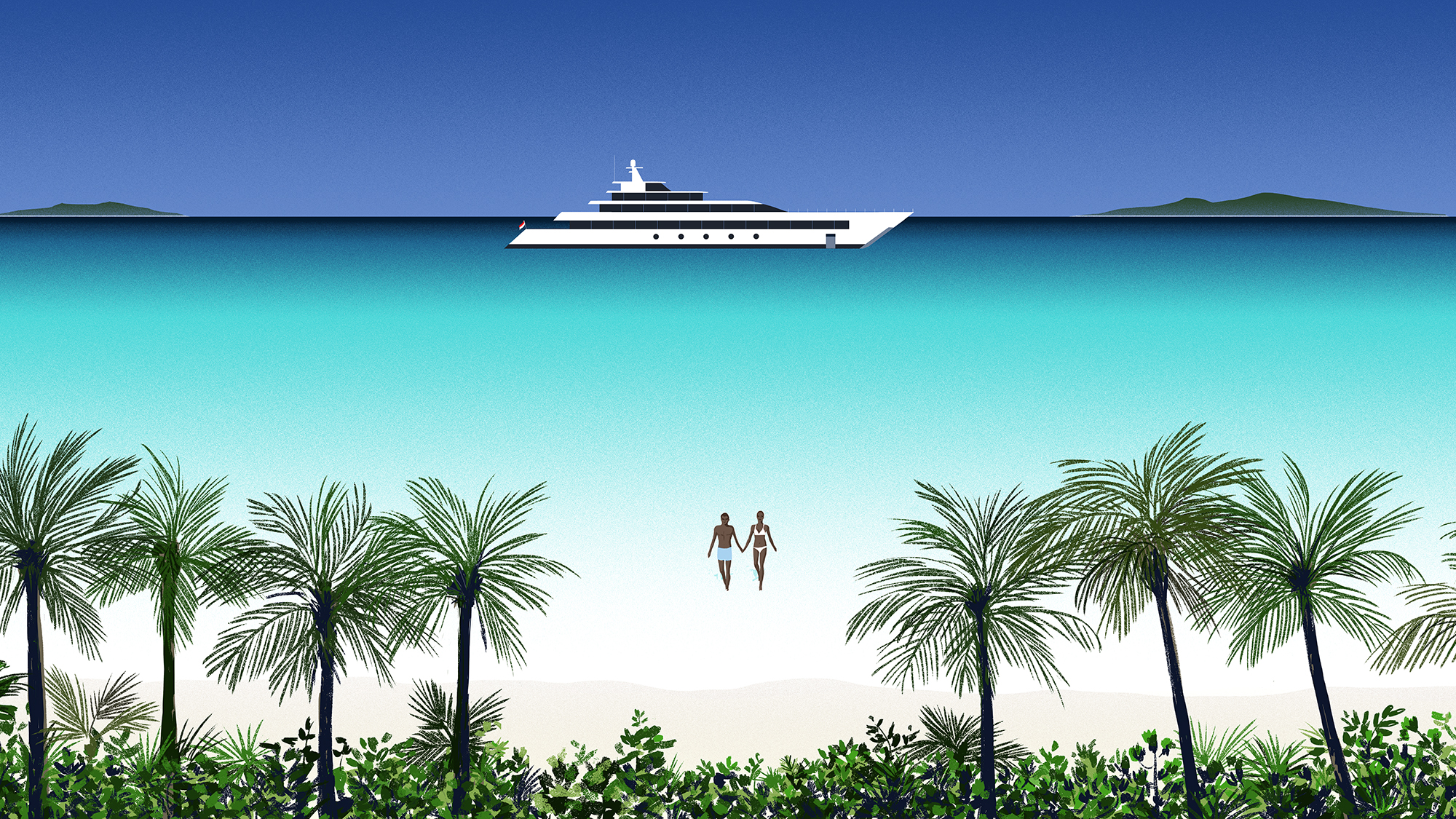 Luxury yacht charter in the British Virgin Islands
Stunning scenery, tropical waters and charming culture all await you with a luxury yacht charter in the British Virgin Islands. Drop anchor and explore this romantic region of the Caribbean from the best vantage point: a superyacht.
The British Virgin Islands are famous for their beauty, their stunning clear waters and welcoming and hospitable culture. Located in the Leeward Islands as part of the Lesser Antilles, this collection of around 60 tropical islands is the perfect destination for a luxury yacht charter.
Whether it's relaxing on a beach, exploring the tropical rainforest or swimming in warm turquoise waters, a BVI yacht charter has it all. The climate and prevailing wind conditions make the area a mecca for sailors and boasts some of the best sailing in the Caribbean.
Take in the beautiful bays and waters of Tortola and the surrounding areas including White Bay, Green Cay and Sandy Spit on Jost Van Dyke Island where you can sling up a hammock between the palm trees. 'Deadman's Bay' on Peter Island is a perfect anchorage for snorkelling, swimming and seabobbing on the rocky outcrop of Cabey Point.
The island of Virgin Gorda is formed of volcanic rocks that have been smoothed down over the millennia to create unique arches, grottos and shaded pools; a magical place. The Baths at Virgin Gorda are world-famous so be sure not to miss out.
As you'd expect from its Caribbean location, the British Virgin Islands is a seafood lover's dream with fresh fish available almost everywhere. Like seemingly the rest of the Caribbean, people of the British Virgin Islands know how to enjoy themselves.
Highlights
A romantic region of the Caribbean
Everything from tropical rainforests to beautiful beaches
Islands formed of volcanic rock
Key facts
Coasts on both the Caribbean sea and Atlantic Ocean
BVI enjoys a sub-tropical climate with temperatures moderated by trade winds
There are around a total of 60 islands here, but just 16 are inhabited
Virgin Islands itinerary
St. Thomas
St. Thomas
Visit the bustling town of Charlotte Amalie, a tropical metropolis with a great shopping and restaurant scene. Escape the crowds by heading to Vessup Bay, dotted with little cactuses and agave plants. Lindquist Beach is a picture-perfect hideaway allowing you to chill out and top up your tan in peace. Grab your snorkel and head to Bolongo Bay Beach Resort for their weekly scavenger hunt to uncover 'buried treasure'. Be quick though, this treasure won't last long - you'll be diving for bottles of rum which on St Thomas, is more valuable than gold! Prize in-hand, visit Duffy's Love Shackfor delicious food and cocktails by moonlight.
St. Croix
St. Croix
There are two main towns on the island of St. Croix: Christiansted and Frederiksted. Christiansted is a historic township with unique shops and a bustling cafe scene. In Frederiksted, you can visit a 200-year-old stone house restaurant on the waterfront known as the Blue Moon with rhythm and blue leaving you swaying like the surrounding palms. The magnificent nearby reefs around Buck Island were dubbed a national monument by former US President JFK - so don't miss out on this snorkelling haven.
St. John
St. John
St John is the smallest of the US Virgin Islands and remains a pristine chest of nature's treasures. Head to Francis Bay for serene shores looking out on the azure water. Surrounded by flora and fauna of National Parkland, you can hike through 20 miles of scenic trails. Or go snorkelling at Hurricane Hole and meander through mangrove trees with large nurseries of fish. Jump off the rocks at Congo Cay then dive with the rays that sail under the sea beneath you.
Tortola
Tortola
Smuggler's Cove on Tortola is difficult to get to without a tender, so offers a quiet spot to enjoy the paradise waters. Drop anchor and head to the beach at Apple Bay, a surfer's paradise or, visit Long Bay Beach, perfect for a sunset stroll. Take to the hills for some in-land adventures into the lush Sage Mountain National Park and hike to Spy Glass Hill for an unforgettable view. Horseback ride through the park too if you want to get off your feet. For something a little livelier, hit up Cane Garden Bay Beach and check out the windsurfers before making the most of the lively bar and restaurants that line the shore.
Peter Island
Peter Island
One fabulous resort and five heavenly beaches make up the private Peter Island. The Marina at Peter Island Resort is in the crystalline waters of Sprat Bay and you'll enjoy dinner and drinks in the stunning surroundings. Head west to Deadman's Bay, considered one of the world's most romantic beaches. Relax and unwind here, or dive the grassy seabed. Explore this island paradise or relax in your very own personal piece of paradise.
Cooper Island
Cooper Island
Separated from Tortola by the Sir Francis Drake Channel, this small island is lined with white sand beaches, palm trees, no roads and only a handful of privately-owned properties. Admire the views from your yacht or drop anchor and visit the Cooper Island Beach Club for drinks on shore. Sail west to visit are-inspiring Salt Island, aptly named after its famous salt ponds. Here you can scuba dive the sunken RMS Phone, one of the best scuba sites in the Caribbean.
Ginger Island
Ginger Island
Completely uninhabited, Ginger Island offers a true tropical island experience. Discover hidden caves and incredible plant life on this empty paradise isle or simply relax uninterrupted on the scenic shores. If you are a keen diver, spots like 'Alice in Wonderland' and 'Alice's Back Door' are ideal for scoping out incredible coral pillars, brain corals, star corals and an abundance of colourful marine life.
Contact
Ewa Petts
CFO / Charter Broker
Speaks :